What is an ipa
An "IPA" is by definition a hoppy style of beer within the broader "Pale Ale" family of beers. IPA stands for "India Pale Ale" and is considered to be one of the most popular styles of beer within the craft beverage movement, typically enjoyed by more experienced beer drinkers or craft beer "connoisseurs." "Double" or "Triple" IPAs continue within the same style but tend to up the hops content and offer a more potent beer with a higher ABV.
The "India Pale Ale" beer got its name dating back to the late 1700s, when exporters of beer from the British Isles to India would add hops to their brews to help preserve the beer in hotter, more tropical climates. The beers were at the time characterized by their lighter style and bitter, hoppy nature. While this beer style has evolved since then, the name and its historic roots remain.
In addition to a higher percent alcohol content or alcohol by volume (ABV), IPAs also tend to have a higher International Bitterness Units (IBU), which measures the number of bittering compounds that give the beer that often bitter kick – or aftertaste.
Styles of IPAs
The American IPA comes in various styles, including an East Coast, New England, and a West Coast. The East Coast style features strong hops balanced by a sweet, malty flavor. The New England IPA or NEIPA tends to be hazier with large notes of fruit. The West Coast style is the most hoppy and bitter of the bunch, often with notes of citrus or pine.
At Red Shed
While our taps are often changing, we've always got a good IPA on the menu to enjoy. Our Cloudy Girl Hazy IPA is a full-bodied NEIPA with tropical notes of mango, papaya and a hint of lemon. It's palatable even to the inexperienced IPA drinkers because of the heavy fruit flavors and doesn't carry a lot of bitterness on the nose. Instead, it has been described as "smooth, hoppy, and crushable" at a 6.5% ABV and 36 IBU.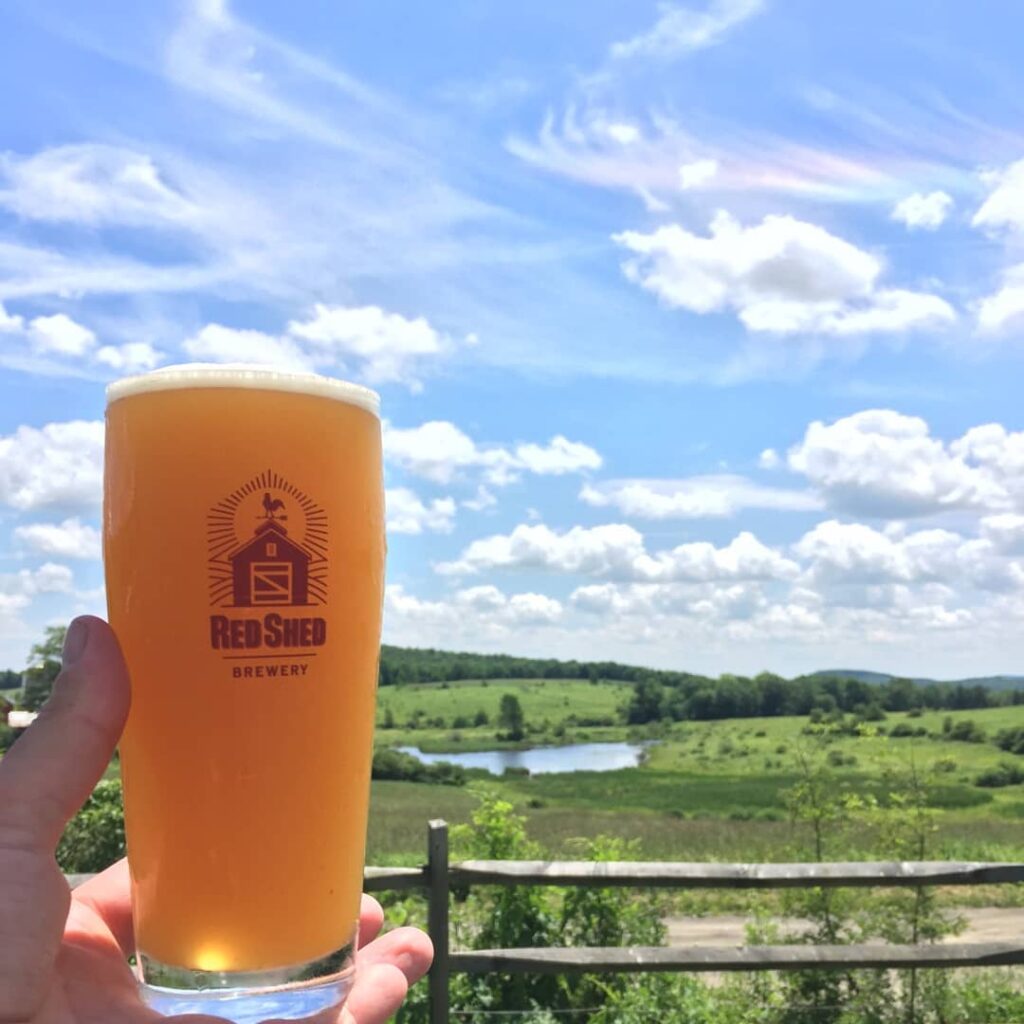 Our Loose Rooster Double IPA is in contrast a delicious and juicy DIPA. It has balanced hop notes of peach and mango, tied together with a light yet bitter finish. For being a DIPA, it's not as hoppy as might be expected. Instead, it offers more of a subtle, earthy flavor that has been described as "easy drinking" by patrons. It carries an 8.0% ABV and 40 IBU, making it one of the stronger beers we carry at Red Shed.