Picture this: you're stretched out on the lawn at Red Shed with a few friends, sipping a cold craft brew, grabbing some fresh bites from the food trailer as the sun shines overhead. It sounds pretty perfect, in our opinion. And, while we'd like to have you stay all day at the Taproom, we also know Red Shed is right down the road from some pretty fantastic attractions in Cooperstown, NY.
So "sip" back and leave the planning to us – we've got five awesome recommendations for things to do, after you grab a brew, in Cooperstown, NY:
1. For The Sports Fan
Perhaps the largest and most well-known of our area attractions is the National Baseball Hall of Fame, an ode to American's Favorite Pastime. Wander the halls to find legends like Yogi Berra, Roberto Clemente, Lou Gehrig, Mickey Mantle, Babe Ruth and more, and view the 40,000 artifacts and images that span decades of baseball history.
Then, head down the road for a tour of Doubleday Field led by a local historian. Doubleday Field has a history dating back nearly 200 years and is the place where the last Hall of Fame Game (2008) and the first Hall of Fame Classic (2009) were played.
Round out your day of baseball history with a stop at the Cooperstown Bat Company and browse the collection or bring home a souvenir. The Cooperstown Bat Company is the third oldest bat company in the U.S., established in 1981.
2. For The History Buff
Step back in time and stroll the grounds of The Farmers' Museum for an outdoor experience straight out of the 19th-century. Enjoy demonstrations of period cooking, trades, farming and domestic life, inside and out of the historic buildings, in a setting overlooking Otsego Lake. You may even find Red Shed present at The Farmers' Museum during select events – we partnered with them in 2019 during a Craft Beer Revival to talk about the history of New York State brewing, hops and barley.
3. for the foodie
We've got pretty good food at Red Shed – and we know it! But there are a few other delicious options in the area that are definitely worth a try.
For a more traditional dining experience, check out Cooperstown's Otesaga Resort Hotel. The resort has three options for diners, Hawkeye Bar & Grill featuring a more seasonal menu of comfort food fare; 1909 featuring dishes full of fresh and local ingredients served on the Otesaga's outdoor veranda; and Glimmerglass featuring an upscale and elegant take on buffet-style American Cuisine.
Then, head over to Beekman 1802, a little shop in Sharon Springs, NY that some may recognize as the popup for Schitt's Creek's Rose Apothecary. Browse the selection for a little something special from the Chef's section – like their truffle ketchup, bourbon BBQ, berry wasabi horseradish, blueberry lemon jam or fig and elderberry balsamic drizzle. The list of amazing take-home items goes on, but you're sure to find something that adds a little spice and flavor to your next at-home creation. (Beekman 1802 is just 20 minutes from our Cherry Valley Taproom.)
4. For The Family
Gather the gang and take the family to Barnyard Swing Mini Golf & Family Fun Center, before or after a day at the brewery. 18-holes of outdoor mini-golf fun tends to be a crowd-pleaser, especially when you pair that with indoor-outdoor laser tag and an ice cream treat at the end of the day.
5. for those traveling with fido
We know Fido is also part of the family and are proudly pet-friendly for well-behaved dogs (on a leash) in the beer garden. We also recommend taking to the parks, the trails and the great outdoors! Glimmerglass State Park is a beautiful outdoor playground for both two-legged and four-legged friends. The Sleeping Lion Trail provides a 2.5-mile safe stroll through the forest with views of Otsego Lake and with plenty to see and sniff. (It's said to resemble a sleeping lion when seen from the south on Mount Wellington – hence the name!)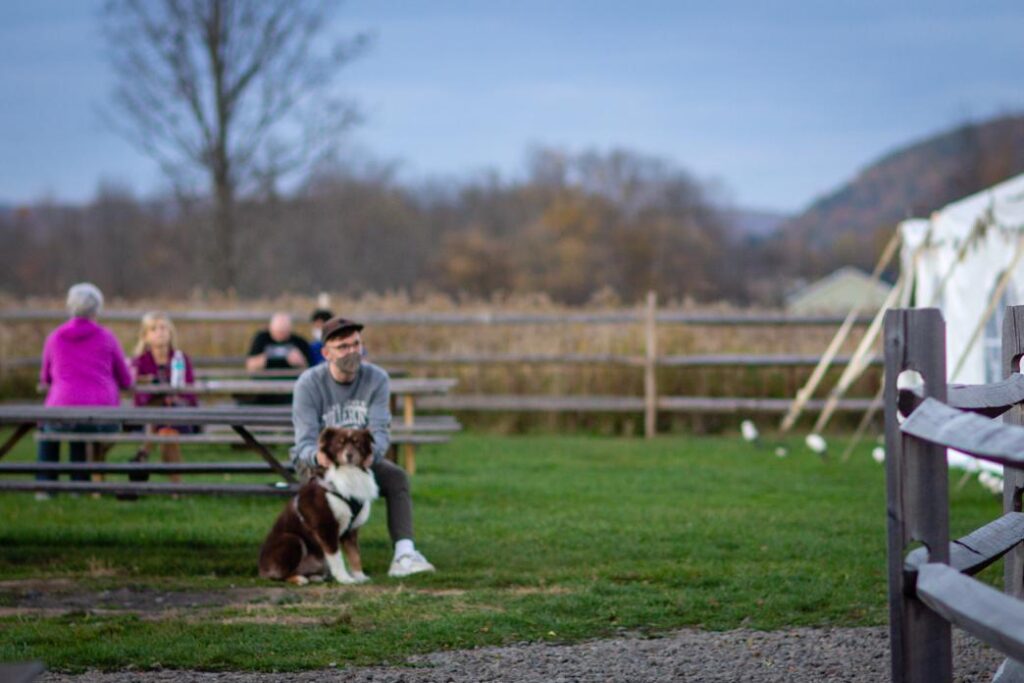 Other great options include Bear Swamp State Forest's Blue (4.3-mile), Red (3.6-mile) and Yellow (6.4-mile) hiking looped trails; Oneonta Susquehanna Greenway's New Island Trails, Silas Lane Loop or half-mile Mill Race Trail; or Arnold Lake State Forest's 5.5-mile Main Trail that loops the scenic Arnold Lake.
Wherever you go, don't forget to take some Red Shed beer to-go! We offer growler fills and cans of some of our favorite craft brews that taste just as good on-the-go as they do right at Red Shed.