What is a Stout
A stout is a top-fermented beer that is best characterized by its dark color and richer, full-bodied flavoring. It is the close cousin to a porter, another style of dark beer. In fact, the two styles are often used interchangeably by the craft brewers of today. Looking back at their historical roots, the porter was the first variation of dark beer to come into existence, dating back to eighteenth century England.
The Stout is a derivative of the Porter, and gets its name because it is stouter – or stronger than its Porter cousin. To make a stout, brewers would add different ingredients that helped boost the alcohol content and make the beer more potent to its drinkers. It is also made primarily with unmalted roasted barley, while porters tend to use malted barley. This gives the drink its signature "coffee" flavor that has come to be associated with the beer.
Styles of Stouts
The Beer Judge Certification Program (BJCP) defines a stout as a "very dark, roasty, bitter, creamy ale". That tends to fit the bill; however this often plays out in several different styles, including the Milk, Irish, Oatmeal, Imperial, or Chocolate.
Each style of stouts feature a different composition that gives the beer its unique flavor profile. Milk feature lactose to give the beer sweetness and body. Irish are drier (think Guinness). Oatmeal has up to 30% of oats added during fermentation, which increase the viscosity of a beer and add to its smooth character. Imperial are some of the darkest and strongest varieties of this beer. And Chocolate refer to the chocolate malt or small bits of chocolate brewed into the beer.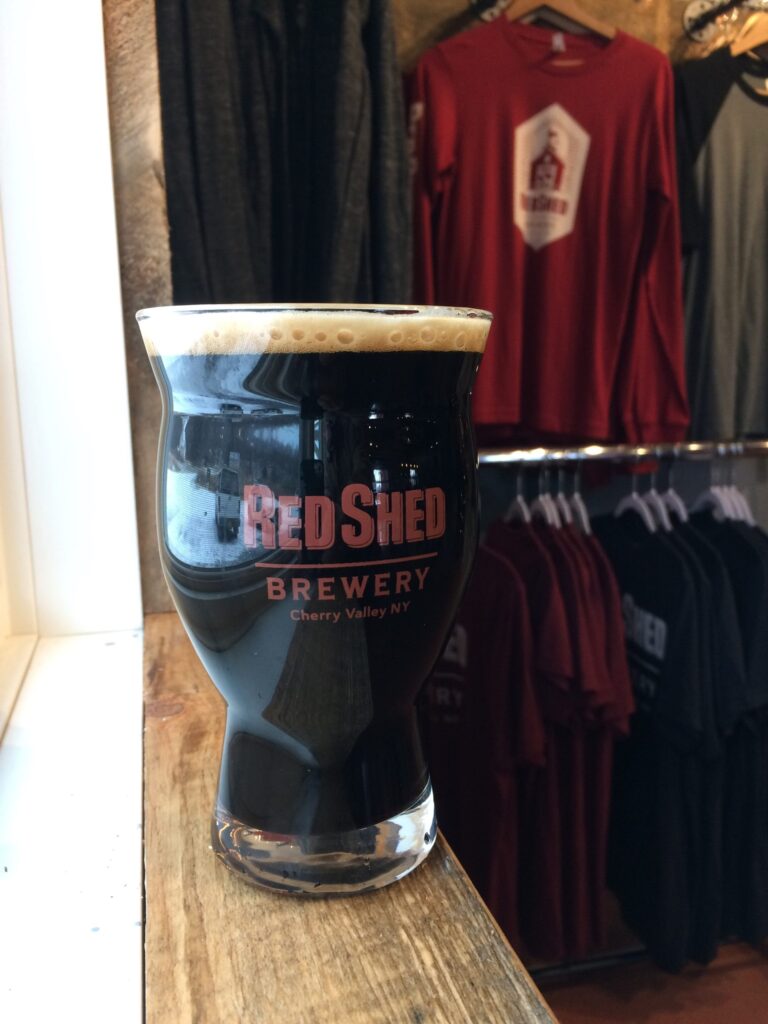 At Red Shed
On tap at Red Shed is our Stonehouse Stout, which is a crowd favorite. The beer is a classic oatmeal stout with low carbonation and a smooth finish. Our customers describe it as "full-bodied," "rich," and "sweet". It's an everyday type of beer – one that you can enjoy around a cozy campfire. Imagine drinking it on a cool summer day or in the fall while wearing a favorite flannel.